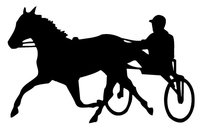 Robert William Leming, Sr.
Robert W. "Bob" Leming, Sr., age 82, of Lyles, TN passed away Friday, September 1 at NHC in Dickson, TN after a long battle with Alzheimer's disease. He was born in Jackson, NJ to Marvin and Sadie Fenton Leming. Bob resided in Howell, NJ for many years before moving to Lyles, TN in 1991.
Bob was employed as a truck driver for Level Line Co. for many years. He also worked in the construction industry for several years. But his true passion was when he owned, trained and raced horses (Harness Racing) at Freehold Raceway and several other area racetracks.
Bob was predeceased by his parents Marvin and Sadie Leming; a son Robert Leming, Jr.; a brother Larry Leming and a nephew Darrell Leming. He is survived by his loving wife of 59 years, Judith Kubicek Leming; a daughter and son-in-law, Debbie and Norman Price of Lyles, TN; a son and daughter-in-law, Jim and Michele Leming of Mt. Juliet, TN; seven grandchildren, Mike Price of Dickson, TN, Nikki White and husband Ollie of Franklin, TN, Cassidy Leming of Nashville, TN, Kellie Leming of Hermitage, TN, Joe Leming of Mt. Juliet, TN, Keith Leming of Howell, NJ and Bobby Leming of Howell, NJ; a great granddaughter, Abigail Leming of Howell, NJ; a brother, Walter Leming of Dickson, TN; two sisters, Dorothy Earley of Brick, NJ and Mary Stowers and husband Ed of Richwood, WV; a sister-in-law, Wilma Leming of Dickson, TN and several nieces and nephews.
Graveside services for Bob will be held on Thursday, September 7 at 1:30 PM at the Clarksburg Methodist Cemetery, 512 Stagecoach Road (Route 524), Clarksburg, NJ 08510. Please meet at the Tilghman Funeral Home, 52 Main Street, New Egypt, NJ 08533 at 1:00 PM on Thursday to drive to the cemetery in procession.
In lieu of flowers, memorial contributions in Bob's name may be made to the Alzheimer's Association (www.alz.org/donate).