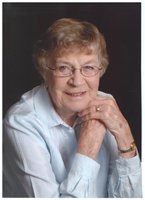 Doris M. Kittis
Doris M. Kittis, age 92 of Jacobstown passed away Thursday, September 14 at home with her loving family by her side. Born in Quincy, MA, she was a longtime area resident.
After raising seven children Doris worked as an auto salesperson, a secretary and with her husband, they owned and operated the "Central Go Getty" in North Hanover Twp. Most recently Doris was a dedicated employee of Scott's Market in New Egypt. She was a faithful parishioner at the Church of the Assumption and it was a very important part of her life. Doris served as the Special Activities Chair, Treasurer and President of the Assumption Rosary Altar Society and she also served on the Loaves and Fishes Committee. Along with her husband, she was involved with Rotary International and also with the Thomas McGuire Memorial on McGuire AFB. But the most important part of Doris' life was her family.
Doris was predeceased by her husband, Mike Kittis; a son, Michael O'Brien, daughter-in-law, Maureen O'Brien; a granddaughter, Katie O'Brien and a sister, Frances Riley. She is survived by six children, Paul O'Brien and wife Susan of Virginia Beach, VA, Susan Ammon and husband Steve of Ft. Myers, FL, Thomas O'Brien of New Egypt, Dennis O'Brien and wife Robin of Hessmer, LA, Kathleen O'Brien of Jobstown and Eileen Bitner and husband Michael of Loveland, CO; two step-children, Carol Weckerly and husband Ray of Boyce, VA and Dennis Kittis and wife Geraldine of Cleveland, OH; many grandchildren and great grandchildren and several nieces and nephews.
A Mass of Christian Burial for Doris will be held on Tuesday, September 19 at 11:00 AM at the Church of the Assumption, 28 Monmouth Road (Route 537), Wrightstown, NJ 08562 with burial to follow in the BGWCD Veterans Memorial Cemetery in Arneytown. Calling hours will be on Monday evening, September 18 from 6:00 to 8:00 PM at the Tilghman Funeral Home, 52 Main Street, New Egypt, NJ 08533 (www.TilghmanFH.com).
Due to cemetery restrictions, in lieu of flowers, memorial contributions in Doris' memory can be made to the Church of the Assumption, 76 Evergreen Road, New Egypt, NJ 08533.