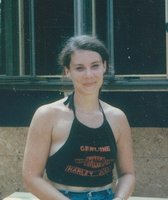 Eileen J. Cammorato
Eileen J. Cammorato, age 63, of Wrightstown passed away on Tuesday, September 19, 2017 at Robert Wood Johnson University Hospital in Hamilton. She was born in Lakewood to the late Edward and Anna McHale (nee Byaliek) in July of 1954 and was a lifelong resident of the area. Eileen worked as an OR Nurse for Eye Physicians and Surgeons in Freehold. In her spare time, Eileen enjoyed riding her Harley Davidson and cooking. She was a loving wife, daughter and friend who will be deeply missed.
Eileen is predeceased by her parents. She leaves behind her husband Thomas Cammorato; brother-in-law Gary Cammorato of Dayton OH; sister-in-law Jane Becker of Manchester; and dear friend Frank Oughton of Wrightstown.
Cremation is being held privately at the convenience of the family. All arrangements are under the direction of the Tilghman Funeral Home, New Egypt NJ (TilghmanFH.com).