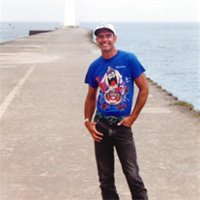 James L. Griswold
James Lawrence Griswold, age 60, of Blackfoot, Idaho; known to many as "Jim" or "Jamie", passed away comfortable and peacefully September 22, 2017 after an extended illness.
Jim was born on September 15, 1957 in Toms River, New Jersey to James and Norma, and older brother, Robert Griswold. He was easy going, always shining his big, bright smile. As a child growing up in New Egypt, New Jersey he enjoyed many hobbies including rock tumbling, stamp collecting, hunting old bottles, fishing and ice skating in the local ponds, bicycles, and mechanics. He had fond memories of hanging out at the fire station and in the shops of fellow mechanics with his father and brother working on race cars for local drivers. A diehard Earnhardt fan Jim is, but he still rooted for his hometown boy Truex, Jr. recently. His passion for fast cars and hot rods (Pontiacs, in particular) continued throughout his life as he owned, and loved to work on multiple GTOs and Lemans'.
Jim graduated from Allentown High School, Allentown, New Jersey in 1975 and eventually moved to Idaho with girlfriend Jana Moss whom he married in 1980 and had daughter Jennifer Marie Griswold. They later divorced in 1991. Jim worked at Cannon Structures for a short period of time then began working at Basic American Foods from 1981 until he retired in 2008. Jim enjoyed many extra activities: playing pool, darts, and basketball with his daughter. He was always busy moving either hauling wood or caring for his yard, garden and most of all his many beloved house plants. He was well known for his plant starts in Blackfoot at his annual yard sale, which earned him the nickname, "Jungle Jim".
When he did relax he enjoyed watching football. Since he was little he was a huge Raiders fan and of course his daughter followed in those footsteps. He was also a great cook. His favorite thing was to make the family his special Italian spaghetti just like his mother's and the full Christmas dinner spread every year at his home. Jim will be greatly missed, especially by his baby girl, grandchildren, great-granddaughter and many other family members and longtime friends as well. They meant the world to Jim. Every birthday, holiday, etc., he was there even when he didn't feel well because it was that important to him.
Jim is survived by his parents, James L. and Norma R. Griswold; his brother, Robert W. (Diane) Griswold, New Egypt, New Jersey; many other aunts and uncles on the East coast; his daughter, Jennifer (Russell) Griswold-Gasper-LeVasseur; grandchildren, Shania Marie, Steven James, and Tysen Leon Gasper; great granddaughter, Arihanna Marie of Pocatello; Jana, Rodney, and Anthony Knight.
As per Jim's wishes, cremation will be held private. If you wish to send a condolence to the family, please mail it to Tilghman Funeral Home C/O The Griswold Family, 52 Main Street, New Egypt NJ 08533.