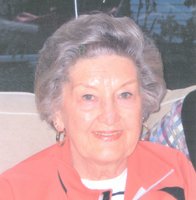 Louise A. O'Dell
Louise A. O'Dell, a former longtime resident of Briarcliff Manor, died Saturday, September 30, in Lawrenceville, N.J. She was 90.
Louise was a beloved mother, grandmother and well-known real estate broker and former resident of Briarcliff for over 30 years. The Pennsylvania native was born in 1927 to Marianna and Ludvig Augustine. She was one of 14 children and spent her childhood in Oregon Hill, PA. Louise also lived in Rochester N.Y and Baltimore Maryland for several years where she attended college and worked in retail, in the years prior to her marriage to Robert J. O'Dell in 1951.
They had 5 children, Robert Kirk, Thomas Scott, Sandra Sherant, Linda Louise and Edward Patrick. She re-entered professional life in the early 1970's as successful real estate broker and worked out of various offices in Briarcliff for the next 23 years. She was also an avid and accomplished golfer, winning several women's championships both in Westchester County, N.Y and Seabrook Island, South Carolina, where Bob and Louise retired to in 1995. Throughout her life, Louise was very active in the Catholic Church, contributing her time to help those in need through numerous charitable organizations. The O'Dells moved back to New Jersey in 2014, where her husband passed in March of this year.
She is survived by her 5 children and daughter-in-law's Wendi and Melissa O'Dell; grandchildren Alexandra, Megan, Ian, Ryder and Dallas; and her sisters Terry Tangredi and Stella Konkle.
Relatives and friends are invited to gather on Tuesday, October 3, 2017 at the Tilghman Funeral Home, located at 52 Main Street, New Egypt NJ 08533, at 12:00pm for a funeral service. Louise will be buried alongside her husband at the Brigadier General William C. Doyle Veterans Memorial Cemetery in Wrightstown, N.J. In lieu of flowers, contributions can be sent to Catholic Charities in memory of Louise. All arrangements are under the direction of the Tilghman Funeral Home, New Egypt NJ.