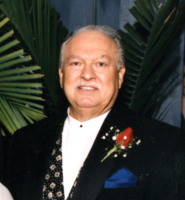 John J. "Johnny" Morris
John Joseph ("Johnny") Morris, beloved father, grandfather, businessman and community leader, passed away on September 28, 2017. He was 91 years old.
Born and raised in Torrington, Connecticut, Johnny was a graduate of Torrington High School. He was always interested in broadcasting and worked at a Connecticut radio station while still in high school. In 1954, he was drafted into the U.S. Army and joined the Armed Forces Network (AFN) in Heidelberg, Germany for two years. Following his military service, Morris was appointed as a civilian at AFN and covered special events and campaigns throughout Europe for seven years. During this time, he conducted interviews with some of the biggest names in entertainment and politics, including Richard Nixon, Lyndon Johnson, King Hussein bin Talal of Jordan, Bob Hope, Judy Garland, Jane Mansfield and Elvis Presley.
In 1964, Morris joined WHWH 1350 AM in Princeton as a sales manager. He played a key role in growing sales, launching WPST 97.5 FM and developing the operation into Nassau Broadcasting Company, and eventually became its president. In 1993, he founded Morris Broadcasting Company of New Jersey, Inc., and acquired the gospel station WIMG 1300 AM with his wife, the late Louise Easton Morris, and his children, Michael and Maggie.
Morris served on the boards of numerous local civic and philanthropic organizations, including Catholic Charities – Diocese of Trenton; Robert Wood Johnson University Hospital at Hamilton; New Jersey Broadcaster's Association; Mercer County Chamber of Commerce; Boy Scouts of America – George Washington Council; Hamilton YMCA; Rider University; and the Trenton Kiwanis Club. He also contributed to many community-based initiatives in both the public and private sector and was honored by several business and civic associations throughout central New Jersey.
John was predeceased by his loving wife of 52 years, Louise in 2006. He is survived by four children, Melissa Hemphill, and her husband, Rodney, of Nampa, Idaho; Michael Morris, and his wife, Kathleen, of New Egypt, NJ; Matthew Morris, and his wife, Karen, of Capistrano Beach, California; and Maggie Guzzardo, and her husband, Joe, of New Egypt, NJ; four grandchildren, Micah Morris, of Glendora, California, Mikaela Morris, of Franklin, Tennessee, and Joseph and Gabriella Guzzardo, of New Egypt, NJ; sister in-law, Virginia E. Simpson of Waldron, Arkansas; brother in-law, Daniel D. Easton, of Hilmar, California; and a nephew, Daniel "Stash" Easton, of Cave Creek, Arizona.
Calling hours for family and friends will begin at 9:30 a.m. on Saturday, October 14 at the Church of the Assumption, 28 Monmouth Road (County Route 537) in Wrightstown, NJ. A live gospel music tribute will begin at 10:30 a.m. and a Mass of the Resurrection will begin at 11 a.m. Internment will be private.
Family and friends are invited send condolences to the Morris family by signing the online guest book at tilghmanfh.com. All arrangements are under the direction of the Tilghman Funeral Home, located at 52 Main Street, New Egypt NJ 08533.
In lieu of flowers, donations may be made to: Trenton Area Soup Kitchen, P.O. Box 872, Trenton, NJ 08605; or online trentonsoupkitchen.org "In Memory of Johnny Morris".