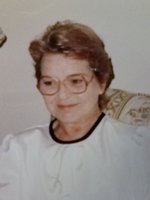 Donna M. Reeder
Donna M. Reeder, age 86, of Wrightstown, passed away on Monday, October 16, 2017 at Samaritan Hospice in Mt. Holly. She was born in Jacobstown to the late John and Tillie (nee Bell) Southard, on September 9, 1931. Donna worked as a Pharmacy Tech for many years. She married William H. Reeder, Sr. in 1949 and the couple had 3 children. Donna enjoyed gardening, cooking, knitting and reading, but mostly enjoyed being with her family. She was a strong willed and caring person who will be deeply missed.
Donna is predeceased by her parents, her husband William Reeder, Sr., sister Mame Farrell and granddaughter Alexandria Hamed.
She leaves behind her 3 children, Kathleen Stewart and husband William of Gibbstown NJ, William H. Reeder, Jr. of Wrightstown NJ and Carole Hamed of Wrighstown NJ; her 5 grandchildren, Ashraf Hamed, Melissa Baxter, Laura Dubovsky, Jacob Reeder and William H. Reeder III; and her 2 great-grandchildren, Mason Baxter and Tristan Baxter.
Relatives and friends are invited to gather for a committal service on Friday, November 3, 2017 at 12:30pm at the Brig. General William C. Doyle Veterans Cemetery, located at 350 Province Line Rd., Wrightstown NJ 08562. All arrangements are under the direction of the Tilghman Funeral Home, New Egypt. In lieu of flowers, donations can be made in Donna's memory to the American Cancer Society at www.cancer.org