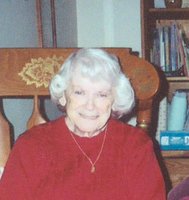 Loretta T. Popola
Loretta T. Popola, age 91, of Edison passed away Sunday, November 5 at JFK Medical Center in Edison. Born in Newark, NJ, she lived in Sayreville most of her life before moving to Toms River and then to Edison in 2010.
Loretta was predeceased by a daughter Frances Clark, a son-in-law Anthony Cser and by her husband John Popola in 2014. She is survived by a son and daughter-in-law, John and Kathleen Popola of North Hanover Twp.; a daughter Joanne Cser of Amelia, VA; seven grandchildren, Alan John Ellison, Mary Fran Clark, Tammy Horner and Jaclyn, Gailen, Steven and Matthew Popola and seven great grandchildren.
Funeral services for Loretta will be held on Monday, November 13 at 11:30 AM at the Tilghman Funeral Home, 52 Main Street, New Egypt, NJ 08533 (www.TilghmanFH.com), with burial to follow in the BGWCD Veterans Memorial Cemetery in Arneytown. Calling hours will be on Sunday afternoon, November 12 from 2:00 to 4:00 PM at the funeral home.