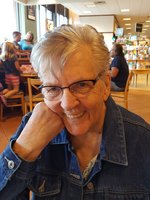 Rita S. Stewart
Rita S. Stewart, 84, of Endicott, NY, passed away in the company of her family at home on November 6, 2017. Rita was born April 5, 1933 in Hudson, NY, and was a longtime resident of Browns Mills, NJ.
She was a veteran of the US Air Force and NJ Air National Guard, serving in honor during the Korean War, she brought home the first POW as a Flight Attendant/Medic. She worked in the Pemberton Township School District where she retired as a Special Ed Paraprofessional.
Rita was a member of Phi Theta Kappa Honor Society, a passionate fisherman, musician, and humanitarian helping children from Poland, for which she was the recipient of the Serce Dla Serc humanitarian medal in Lublin Poland 1990. She was an artist, semi-pro bowler, animal lover, loved Western TV shows, was an avid Philadelphia Eagles football fan, and enjoyed many family meals and get-togethers.
She was the daughter of the late Joseph and Anna Novack of Hudson, NY, and is preceded in death by her husband of 54 years, Pickens Stewart, of Browns Mills, NJ; survived by daughter Laura Schmitz, of Endicott, and son and daughter-in-law David and Anita Stewart, of Burlington, NJ; siblings Peter Novack and Amelia Maruniak of Hudson, NY, and Helen Simmer of Ocala, FL.; her loving grandchildren Melissa and Amanda Schmitz, Ashley Ruch, Steven and Jason Baumann, and Kayeong Tak and Seungju Cho.
There will be no calling hours and burial will be held privately. In lieu of flowers, donations may be made in her name to Lourdes Hospice, Binghamton, NY.
Arrangements are under the direction of the Tilghman Funeral Home in New Egypt (www.TilghmanFH.com).