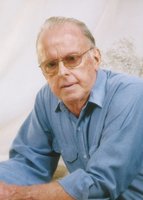 Francis A. "Frank" Schwing
Francis A. "Frank" Schwing
Frank August Schwing, aged 80, of Pemberton passed away on Thursday, November 9, at home.
Frank was born in 1937 in Trenton, NJ to August Schwing and Helen Magyar. He attended St. Anthony's grammar school and Trenton Catholic High School. He married his high school sweetheart and love of his life, Joyce Lisnak, in 1959. He was a devoted husband and loving father to his three children. He lived a life surrounded by a very close extended family and great friends that will miss him deeply.
Frank was an avid woodworker, handyman and jack of all trades. If he needed something, he would make it - no matter how big or complicated the project. If it was broken, he could fix it.
Frank held many different jobs over the years including department manager at E.J. Korvettes in Trenton and manager of Gregory's department store in Mount Holly. He is probably best known as owner of Plaza Deli and Catering in Allentown, NJ for 14 years until 1998 when he retired. He moved for a short time to Wilmington, NC before returning to New Jersey two years ago to be closer to his family and friends.
Frank is predeceased by his parents, his sister, Helen Siebel, and his brother, George Schwing. He is survived by his loving wife of 58 years, Joyce, his son, Frank Schwing Jr and his wife, Elsie, his daughter, Deborah Lord, daughter, Theresa Witt and her husband, Ken, brother, Jim Schwing and his wife, Mary, brother, Don Schwing and his wife, Lois, and sister, Alice Broda and her husband, Ed. He also leaves behind three grandsons, Christopher Schwing, Joseph Lord and Robert Lord, three granddaughters, Alicia DiPierro, Samantha Lord, Amanda Todaro and her husband, Chris, a great grandson, Carmine Todaro, great granddaughter, Ava Todaro, and his lifelong best friend, Al Kolpack.
Family and friends are invited to a memorial mass at 11am on Friday, November 17, at Saint Anthony Catholic Church, 626 S. Olden Ave, Trenton, followed by a brief graveside service at Our Lady of Lourdes Cemetery at 400 Woolsey St, Trenton. After the service, a reception will be held at the neighborhood clubhouse where Frank lived at 1 Hearthstone Blvd in Pemberton.
In lieu of flowers, donations in Frank's name may be made by check payable to the Loaves & Fishes Ministry and mailed to the Church of the Assumption, 76 Evergreen Rd, New Egypt, NJ 08533. The ministry provides food baskets to local families in need, especially during the holiday season.