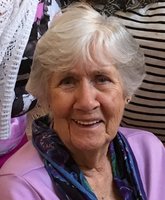 Eugenia M. Gernert
Eugenia Marie Gernert, age 78, of Toms River, passed away at home with her family by her side on Sunday, November 12, 2017. Eugenia was born in Philadelphia to the late Joseph F. and Eugenia B. Wood. She worked as an RN for many years before marrying and starting a family. After that, she was a stay at home mother to her three children. She enjoyed sewing and gardening and had a passionate interest in research and advocacy in the field of mental health.
She was predeceased by her parents, and by first husband Robert W. Diamond, second husband William B. Gernert, two brothers James H. Wood, Joseph F. Wood, and step-daughter Laura E. Gernert.
Eugenia leaves behind two daughters, Joanna Menaker (Dave) New Egypt, Jeanmarie Carr (Brian) of Toms River, and a son, Robert Diamond of Pennsylvania; sister Joanna Perkinson of Fairview NC; two grandchildren Ann and Samuel; step-children Sally Sinatro (Gary) and William Gernert (Margaret); two step-grandchildren Colin and Brendan; along with several nieces, nephews and friends.
Relatives and friends are invited to gather on Friday, November 24, 2017 for a chapel service at 1:30PM at the Brig. General William C. Doyle Veterans Memorial Cemetery. If attending services for Eugenia, please meet at the Tilghman Funeral Home, located at 52 Main Street, New Egypt NJ 08533, at 12:30PM. We will all process to the cemetery together. In lieu of flowers, donations can be made in Eugenia's memory to the Joan Dancy and PALS (People with ALS) Foundation or Mental Health America.