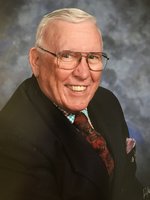 Vincent J. Hogan
Vincent J. Hogan, age 87, of Whiting and formerly of New Egypt, passed away on Saturday, November 18th, 2017 at the Chelsea Assisted Living facility in Toms River.
Vincent was born in Philadelphia, PA but moved and was raised in Ireland at the age of 3. Vincent graduated from an Irish college before coming to the United States where he joined the Air Force. He met his wife-to-be at an Irish dance and eventually, the couple settled down in New Egypt. They had seven children; Vincent, Jerry, Jim, Joyce, Tom, Brendan, and Danny. Before his 20 year retirement from the Air Force, Vincent qualified for a special program to go back to college full time to get his teaching degree, as the degree he received from the Irish college would not transfer to the United States. Later, after graduating with his Masters, Vincent secured a teaching position at New Egypt Elementary, where his second career was connecting his students with science. He retired again after 20 years.
Vincent was an avid supporter of the Knights of Columbus and a proud member of the American Legion. He also ran the blood drive for many years and helped organize the Church of Assumption bingo charity.
Vincent was married to Kathleen for 43 years before she passed away in 1998. He is also predeceased by his daughter Joyce, his parents Philip and Maryann Hogan and his brother Joseph Hogan.
He is survived by his 6 sons; Vincent J. Hogan, Jr. and his wife Joanne of Naples FL, Jerry Hogan and his wife Patricia of Cape Coral FL, James Hogan and his wife Patricia of Brandon VT, Thomas Hogan and his wife Lisa of Jackson NJ, Brendan Hogan and his wife Nadine of Garnet Valley PA, and Daniel Hogan and his wife Susanne of Nazareth PA; his brother James Hogan of Toms River NJ; his sister Theresa Chila of Staten Island NY; his 11 grandchildren, Sean, Megan, Mickeen, Keenan, Ryan, Alyssa, Erin, Dylan, Andrew, Katherine and Emma; along with several nieces, nephews, many friends and wonderful former neighbors.
Relatives and friends are invited to gather on Friday, November 24, 2017 from 2-4 and 7-9 at the Tilghman Funeral Home, located at 52 Main St., New Egypt NJ 08533 (Tilghmanfh.com). Mass will be held on Saturday, November 25, 2017 at 10AM at Church of the Assumption Chapel, located at 76 Evergreen Rd., New Egypt NJ 08533. Burial will follow at the church cemetery with Military Honors. In lieu of flowers, donations can be made to Loaves and Fishes Food Pantry C/O Church of Assumption, 76 Evergreen Rd, New Egypt, NJ 08533.