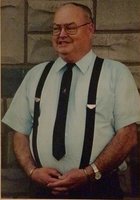 Arthur H. Taylor, Jr.
Arthur Harry Taylor, Jr., age 81, of Southampton NJ and formerly of Columbus NJ, passed away peacefully with his family by his side on Friday, November 24, 2017. He was born in Trenton NJ to the late Arthur and Agnes Taylor (nee Sanford). Arthur owned a tractor repair and sales business for over 32 years in Columbus. After that, he worked as a mechanic for Mount Laurel Twp. and then as a facilities director at NBCRHS until retirement. He served for many years as a volunteer with the Franklin Fire Co. and at the Mansfield Twp. Ambulance Squad. Arthur enjoyed camping with his family and friends, cooking, eating, fishing, hunting and working. He was a loving husband, father, grandfather, brother and friend who will be deeply missed.
Arthur is predeceased by his parents; his son Allen Harry Taylor; and his eights siblings, Ann, Judy, Jean, Mary, Larry, LeRoy, Donald and Russell.

Arthur is survived by his loving wife of 34 years, Clara Taylor of Southampton NJ; his daughters Diane Petroni and husband Terry of Columbus NJ, Lorraine Spooner and husband Mac of Mechanicville NY; his stepdaughters Sheila Schmidt of Florence NJ and MaryLou Moore of Pemberton NJ; 14 grandchildren: Wendy, T.J., April, Angela, Danny, Nick, Adam, Michael, Heath, Patrick, Megan, Jessica, Amanda, A.J. 15 great-grandchildren: Tori, Isaac, Avery, Elyse, Korbin, Raina, Tanner, Sierra, Paxton, Ethan, Remington, Lany, Shaun, Lillian, Julie; his sisters Barbara Anseth (Marvin) of New Hampshire and Emily Lange of Wisconsin; former son-in-law Rudy Schmidt of Roebling NJ; and several nieces, nephews and friends. Relatives and friends are invited to gather on Wednesday, November 29, 2017 from 10AM to 12PM at the Tilghman Funeral Home, located at 52 Main St., New Egypt NJ 08533. A funeral service will begin at 12PM with interment to follow at the Columbus Cemetery. In lieu of flowers, donations can be made in Arthur's memory to the Franklin Fire Co. #1, 3135 Route 206, Columbus NJ 08022 or to the American Diabetes Association, PO Box 15829, Arlington VA 22215.