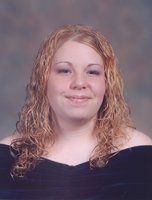 Katrina R. Rose
Katrina R. Rose, age 31, of Wrightstown passed away suddenly on Friday, November 24, 2017. She was born in Mt. Holly on April 24, 1986 to Clifford and Gail Rogers (nee Green). Katrina was a graduate of Northern Burlington High School and worked as a retail cashier for many years. She enjoyed watching Game of Thrones and The Walking Dead. Katrina was also very into crafting and spending time with her family. She was known for being very helpful, caring and giving beyond measures. Katrina was sweet and strong and will be deeply missed by those who knew her.
Katrina is predeceased by her paternal grandparents Clifford and Georgia Rogers.
She leaves behind her father Clifford L. Rogers of Wrightstown, New Jersey; her mother Gail Rogers of Wrightstown, New Jersey; her brother Clifford "Kippy" Rogers of Lambertville, New Jersey; her boyfriend Kumonte Cochran of New Jersey; her four aunts, Erin of Virginia, Edna of New Jersey, Debbie of New York, and Karen of North Carolina; her uncle Ed of North Carolina; her maternal grandmother Grace Hopkins of New Jersey, several cousins; her step sister Jackee of New Jersey and step brothers Dion of Wisconsin and Dominic of Michigan.
Relatives and friends are invited to gather on Wednesday, December 6, 2017 from 1:00PM to 4:00PM, with a memorial service to be held at 3:00PM at the Tilghman Funeral Home, located at 52 Main Street, New Egypt, New Jersey 08533. A graveside service will be held on Thursday, December 7, 2017 at 1:00PM at the Jacobstown Baptist Cemetery. In lieu of flowers donations can be made in Katrina's memory to Autism Speaks (https://www.autismspeaks.org/).