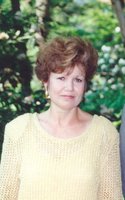 Billie Jean "Jean" South

Billie Jean South, age 73, of Juliustown, passed away surrounded by her loving family on Thursday, November 30, 2017 at Virtua Memorial Hospital in Mt. Holly. She was born January 28, 1944 in Trenton to the late Lillian and Harry Ervin. Jean married the late Joseph South in 1962 and resided in North Hanover until 1974 when the family moved to Juliustown.
Jean is predeceased by her parents; her beloved husband Joseph South; and her 10 siblings, Norman Ervin, Ken Ervin, Thomas Ervin, John Ervin, Jerry Ervin, Fred Ervin, Harry Ervin, Bruce Ervin, Nellie Ervin and Virginia Long.
Jean is survived by her 3 children, Joseph South of Juliustown; Diane S. Keller and her husband Randy of Locust Grove VA; and Cindy Mendoza and her husband Richard of Juliustown; her 11 grandchildren, Brandy and Zachary Greiner, Nicholas and Allyssa Pica, Dale, Shelby and Travis South, and Chloe, Camaron, Richard Jr. and Rilee Mendoza; 5 great-grandchildren; brother-in-law Benny South of Jacobstown; along with several nieces, nephews and friends.
Relatives and friends are invited to gather on Monday, December 4, 2017 from 9am to 12pm at the Tilghman Funeral Home, located at 52 Main Street, New Egypt NJ 08533. A funeral service will begin at 12pm. Interment will follow at the Jacobstown Schoolhouse Cemetery.