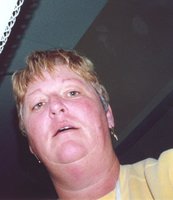 Lorraine E. Evans
Lorraine E. Evans, age 62, of Cookstown passed away suddenly on Sunday, December 3, 2017 at Deborah Hospital in Browns Mills. She was born in Canada on January 11, 1955 to the late Albert E. and Thelma M. Harper (nee Smyth). Lorraine worked as a monitor for Northern Burlington High School, but her main job and focus was caring for her son Doug. She was a devoted, loyal and giving woman who would do anything for her family. Lorriane will be deeply missed by all who knew her.
Lorraine was predeceased by her parents and her brother Thomas Mitchell. She is survived by her beloved husband of 28 years James Evans of Cookstown; her son Douglas Evans of Cookstown; her two brothers Larry Harper and his wife Kathy of North Hanover, James Harper and his wife Karen of Mt. Holly; her sister Janet Ricca of North Hanover; along with several neices, nephews and friends.
All services for Lorraine are being held private and are under the direction of the Tilghman Funeral Home, New Egypt NJ. Should you care to make a donation in Lorraine's memory, the Ronald McDonald House of Southern New Jersey was close to her heart. Donations can be made via their website at https://ronaldhouse-snj.org/ . If you would like to send a condolence to the family please mail it to Tilghman Funeral Home C/O The Evans Family, 52 Main Street, New Egypt NJ 0853.