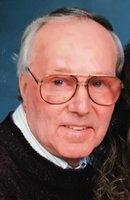 Basil P. Doyle
Basil "Spud" P. Doyle, age 80, of New Egypt, passed away peacefully on Wednesday, December 6, 2017 with his family by his side at Monmouth Medical Center-Southern Campus in Lakewood. He was born in Charlottetown, Prince Edward Island, Canada to the late Ambrose and Mary Helena Doyle (nee Wedge) on March 11, 1937. After finishing school, Basil enlisted in the Canadian Air Force and served his country proudly. He was a part of a minor league ice hockey team and enjoyed every moment. In the 1960's he moved to California where he trained standardbred horses. This love of horse training took him all over the country until he met the love of his life, Jacqueline, in New Egypt. They married in 1970 and had two children. Basil never lost his passion for the horse industry, as he returned to it after his career and retirement from Ciba Geigy in Toms River. In his later years, he owned and trained several winning standardbred horses while passing on his love and commitment of horses to others. Basil was an active member for many years at St. Anne's RC church in Browns Mills and later became a member of the Church of the Assumption in New Egypt. He couldn't wait to spend time with his family, but nothing compared to the love he had for his grandchildren. Basil was a loving husband, father, grandfather, brother and friend who will be deeply missed.
Basil is predeceased by his parents; his wife Jacqueline Doyle (nee Lenceski) and his sister Charlene Doyle. He leaves behind his two daughters, Helena Aumenta and her husband Peter of Haskell NJ and Danielle Peacock and her husband Toby of New Egypt NJ; his four grandchildren, Christina, Nate, Jacqueline and James; his twelve siblings, David, Amber, Philip, Pius, Gertrude, Ann, Robert, Michael, Pauline, Edward, Bernadette and Keith; along with many nieces, nephews, extended family and friends.
Relatives and friends are invited to gather on Saturday, December 9, 2017 from 9AM to 11AM at the Church of the Assumption Chapel, located at 76 Evergreen Road, New Egypt NJ 08533. A funeral mass will begin at 11AM with burial to follow at the church cemetery. All arrangements are under the direction of the Tilghman Funeral Home, New Egypt, NJ.