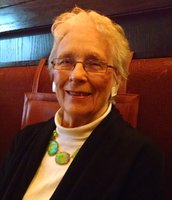 Bernice O. Vereb
Bernice O. Vereb, age 87, of North Hanover Twp., NJ passed away Thursday, December 21 at Reliable Oaks Assisted Living in Needville, TX. Born in Bridgeport, CT she was a resident of North Hanover since 1965 and previously lived in Hedding and Trenton.
Bernice retired from the State of New Jersey as a Medical Records Administrator at the New Lisbon Development Center in New Lisbon. She was an avid reader and enjoyed working in her garden. She also loved to go to yard sales with her daughter.
Bernice was predeceased by her husband Eugene A. Vereb. She is survived by two sons, Peter Vereb of Morris Plains, NJ and John Vereb and wife Jill of Rosenberg, TX; a daughter, Kathleen Tepel and husband Lewis of North Hanover Twp. and four grandchildren.
Funeral services and burial for Bernice will be private at the convenience of the family under the direction of the Tilghman Funeral Home in New Egypt (www.TilghmanFH.com).