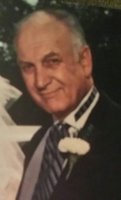 Louis R. "Lou" Luongo
*****CHANGE IN DATE, TIME AND PLACE OF SERVICE*****
Louis Raymond Luongo, age 88, of Marlton, passed away on December 30, 2017 at the Wiley Christian Retirement Community Center in Marlton, NJ with his loved ones by his side. He was born and raised in Newark, but resided in Berkeley Heights before retiring to Toms River. Lou graduated from Barringer High School in Newark and went on to earn his Bachelor's Degree in Psychology from Rutgers University. He attended the Georgetown School of Foreign Service and served in the Korean War as a lieutenant with the US Air Force in Psychological Warfare. After the war, he began his career in sales at Inmont (United Technologies) in the Printing Inks Division. A few years later, he started and ran a successful company, Press King Distributers, Inc., in the same industry until the company sold during the mid 1980's.
In retirement, Lou volunteered his time for Ocean Housing Alliance and as a civil mediator for the Superior Court. During his life, he traveled extensively with his wife, was an avid reader and enjoyed lively debate with friends and family. He and he wife also enjoyed many years of friendship with their wonderful friends Joe and Peg Alto.
After serving in the military, Lou met his beloved wife Patricia Luongo (nee Lawlor) and the two married and had four children while residing in Berkeley Heights. He is lovingly remembered and missed by his wife; his four children, Raymond, Stephen (Marianne), Patricia Moran (William) and Christopher (Patricia); his six grandchildren, Grace, Katherine, John, Corrine, Annie and Terence.
Lou is predeceased by his parents, Pelegrino and Evelyn Luongo and his loving brother Robert (Paula).
Relatives and friends are invited to gather on Saturday, January 6, 2018 from 10AM to 11AM at the Tilghman Funeral Home, located at 52 Main Street, New Egypt NJ 08533 (www.tilghmanfh.com). A funeral service will be held at 11AM at the funeral home. Interment will be private. In lieu of flowers, donations can be made in Lou's memory to the Alzheimer's Association at www.alz.org.