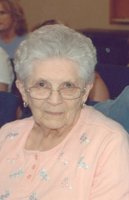 Marion E. Hance
Marion E. Hance (nee Buckalew), age 88, of New Egypt, went home to be with the Lord on Friday, January 5, 2018. She was born in Trenton, NJ to the late Marvin and Lottie Buckalew (nee Bell) on March 14, 1929. Marion was a lifelong resident of New Egypt and worked as a self-employed home cleaner for many years. She married Leon Hance on June 16, 1951 and had two children. Marion was a devoted member of the New Egypt United Methodist Church, which she started attending at the age of 12. She enjoyed going out to dinner and most of all, spending time with her family. She was a loving wife, mother, sister, aunt and friend who will be deeply missed by all who knew her.
Marion is predeceased by her husband, Leon Hance; her grandparents, William and Carrie Bell; her parents, Marvin and Lottie Buckalew; her siblings, Carolyn Bishop, Shirley Savage and Roger Buckalew; and her daughter-in-law, Karen Hance.
She leaves behind her two sons, Roger Hance of New Egypt and David Hance of New Egypt; her brother, Hilton Buckalew Sr. and his wife Maude of New Egypt; along with several nieces, nephews and friends.
Relatives and friends are invited to gather on Wednesday, January 10, 2018 from 6:00pm to 8:00pm at the Atkinson Hall, New Egypt United Methodist Church, located at 9 Fort Avenue, New Egypt NJ 08533. Visitation will continue on Thursday, January 11, 2018 from 10:00am to 11:00am. A funeral service will be held at the Atkinson Hall at 11:00am. Interment will follow the service at Jacobstown Cemetery. All arrangements are under the direction of the Tilghman Funeral Home, New Egypt NJ. In lieu of flowers, donations can be made in Marion's memory to the St. Jude's Children's Hospital at 501 St Jude Place Memphis, TN 38105.