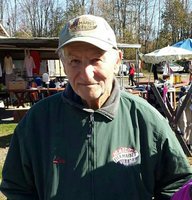 Esler G. "Les" Heller
Esler G. "Les" Heller died peacefully at home surrounded by family on January 16, 2018. Mr. Heller was born on September 28, 1932 in Pomona, NY to his parents Dr. Julius S. and Tillie Heller. A 1950 graduate of Allentown High School Les attended Rider College. He served his country with the U.S. Navy during the Korean War. After returning from the service he founded the New Egypt Flea Market Village which his family still owns and operates. He served as the President of the New Jersey State Society of Auctioneers and was a member of the New Egypt Lions Club, the American Legion Post 455, the Plumsted Historical Society, and the Wrightstown Area Chamber of Commerce. He was a published author for the Foundation For Economic Education. Mr. Heller was known for his tireless work ethic, love of family and country, a strong sense of community pride, tremendous intellect, a level of honesty second to none.
He is survived by his wife of 54 years, Sandra (Charlip) Heller, his daughter & son-in-law Talba & Keith Warner, his son Aaron Heller and his fiancee' Tabitha Bowden, his grandchildren, Brooke Flynn, Hillary Perryman, Jared & Abigail Heller, Jamie Worrall, and Jodi Warner, along with several great grandchildren, and special family friend Carl Reynolds. A special thanks from the family to the wonderful care givers from Compassionate Care Hospice.
Relatives and friends are invited to gather on Thursday, January 18, 2018 from 6-9PM at the Tilghman Funeral Home, located at 52 Main Street, New Egypt NJ 08533 and again on Friday, January 19, 2018 at 9AM. A funeral service will begin at 9:30AM with interment to follow at the Brig. General William C. Doyle Veterans Memorial Cemetery. In lieu of flowers memorial donations may be sent in Les' memory to Compassionate Care Hospice 261 Connecticut Dr. Suite 1 Burlington, NJ 08016.