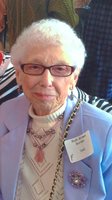 Ruth B. Borden
Ruth B. Borden, age 92, of New Egypt, passed away peacefully with her loving family by her side on Wednesday, January 31, 2018 at home. She was born in Trenton, NJ to the late Vincent and Lela Brown on November 2, 1925. Ruth married Robert Borden in 1945 and the couple had one daughter. Ruth and her family were lifelong residents of the area. Ruth stayed active throughout her life, working at several local businesses and was involved in many groups. She worked at the New Egypt National Bank, Challender Fuel Oil, Dayton Hopkins Law Firm, Ridgeway Motors and JP Chevrolet, and at Dr. Miller's. Ruth was a life member at the New Egypt United Methodist Church and was very involved with the New Hanover Senior Group, the North Hanover Senior Group and the SOS in New Egypt. She was also the Secretary for the Jacobstown Cemetery Association Board, Past President of the American Legion 455 Ladies Auxiliary, a member of the 8 & 40 Salon 492 of Ocean County and a volunteer at Deborah Heart and Lung Center in Browns Mills. She was a loving wife, mother, grandmother and friend who will be deeply missed.
Ruth is predeceased by her parents Vincent D. Brown and Lela Brown (nee Horner), her beloved husband Robert S. Borden and a sister Vivian Brown Hartshorn.
She leaves behind her loving daughter Karen Ann Kisner and her husband William of New Egypt; her brother Jim Brown of New Egypt; her four grandchildren, Marcy Mushinski and her husband Ken of Wrightstown, Melissa Southard of Wrightstown, Mandy Danberry and her husband Scott of Browns Mills and William Kisner and his wife Lisa of Browns Mills; her five great-grandchildren, Brandon Mushinski, Rebecca Mushinski, Gracin Southard, Annabelle Kisner and Lily Kisner; along with several nieces, nephews and friends.
Relatives and friends are invited to gather on Monday, February 5, 2018 from 6PM to 9PM at the New Egypt United Methodist Church - Atkinson Hall, located at 9 Fort Avenue, New Egypt NJ 08533. A funeral service will be held at 11AM on Tuesday, February 6, 2018 at NEUMC – Atkinson Hall. Interment will follow at the Jacobstown Cemetery. All arrangements are under the direction of the Tilghman Funeral Home, New Egypt NJ (TilghmanFH.com). In lieu of flowers, donations can be made in Ruth's memory to the American Cancer Society, P.O. Box 22478, Oklahoma City, OK 73123.