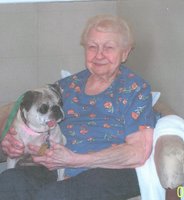 Bessie I. Tamas
Bessie I. Tamas, age 98, of Browns Mills and formerly of Yardville, passed away peacefully on Sunday, February 4, 2018 at the Aspen Hills Healthcare Center in Pemberton, NJ. She was born in Bordentown, NJ to the late Wilbert and Viola Hamilton on December 21, 1919. Bessie worked on an assembly line for Thermoid in Trenton for several years. She married Emery Tamas and the couple had one son. Bessie loved to cook and took great pride in showing kindness to others. She was a loving wife, mother, grandmother and friend who will be deeply missed.
Bessie is predeceased by her parents, Wilbert and Viola Hamilton (nee Matthews); her adored husband Emery Tamas; and her five siblings, Charles, Frank, Walter, Marion and Ruth.
She leaves behind her son Lewis Matthews and his wife Carol of Browns Mills; her five grandchildren; eight great-grandchildren; her beloved niece Linda; along with several other nieces, nephews and friends.
Relatives and friends are invited to gather on Thursday, February 8, 2018 from 1:00PM to 2:00PM at the Tilghman Funeral Home (tilghmanfh.com), located at 52 Main St., New Egypt NJ 08533. A funeral service will begin at 2:00PM. Interment will follow at the North Crosswicks Cemetery.