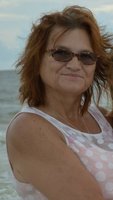 Beverly J. "Bev" Mauder
Beverly J. Mauder, age 64, of Manchester, and formerly of the New Egypt area, passed away suddenly on Friday, February 2, 2018 in Toms River. She was born in Trenton to the late Charles and Doris Haines on November 11, 1953. Beverly worked in the transportation industry for several years. She was quite the traveler, going anywhere her family was. Beverly enjoyed "Beach Week" down in Florida every year and loved spending her time with her grandchildren. She was a loving wife, mother, grandmother, sister and friend who will be deeply missed.
Beverly is predeceased by her parents Charles Haines and Doris Haines (nee Organek) and her brother Dennis Haines.
She leaves behind her beloved husband Henry P. Mauder of Manchester; her three children, John Giganti and his wife Michelle; Joanne Olsen and her husband John of Cape Coral FL and Michael Giganti and his wife Kim of Kileen TX; her three siblings, Charles "Bobby" Haines and his wife Sue, Lenny Haines and his wife Anne and Barbara Davison and her husband John; her six adored grandchildren, Stephan, Lindsey, Victoria, Angelina, Michael and Sofia and one great-grandchild Alanna; along with several nieces, nephews and friends.
Relatives and friends are invited to gather on Monday, February 12, 2018 from 5PM to 7PM at the Tilghman Funeral Home (tilghmanfh.com), located at 52 Main Street, New Egypt NJ 08533. A funeral service will begin at 7PM. Interment will be held privately at the convenience of the family. In lieu of flowers, donations can be made in Beverly's memory to help benefit her grandchildren https://paypal.me/pools/c/81CT0iJ1qB or mailed to the Tilghman Funeral Home, C/O the Mauder Family, 52 Main St., New Egypt, NJ 08533.