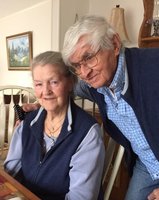 Stefan Kopas, Sr.
Stefan Kopas, Sr., age 85, of Bordentown passed away peacefully on Sunday, February 4, 2018 at Compassionate Care Hospice at Robert Wood Johnson University Hospital in Hamilton, NJ. He was born in Bratislava, Slovakia on November 24, 1932. Stefan married the love of his life, Anneliese, in the mid-1950s. He was proud to serve in the United States Army during the Korean War, but it wasn't until after his five years of service (1958) that Stefan became a naturalized citizen of the United States. Once settled into the Bordentown area, he opened his own garage and tire store, where he worked as a mechanic. Stefan was a member of St. Mary's Catholic Church in Bordentown and focused on caring for his beloved wife these past few years. He was a loving husband, father, grandfather and friend who will be deeply and sorely missed.
Stefan leaves behind his wife Anneliese Kopas (nee Schuermann) of Bordentown; his two sons Stefan Kopas, Jr. and his wife Francene and Walter Kopas and his wife Virginia; his daughter Susan Weber; and his grandchildren Stevie, Jillian, Keegan and Kyle.
Relatives and friends are invited to gather for a military service on Monday, February 12, 2018 at 10:30AM at the Brig. General William C. Doyle Veterans Memorial Cemetery, located at 350 Province Line Road, Wrightstown NJ 08562. All arrangements are under the direction of the Tilghman Funeral Home, New Egypt NJ. In lieu of flowers donations can be made in Stefan's memory to the American Cancer Society, P.O. Box 22478, Oklahoma City, OK 73123 or to the Alzheimer's Association, P.O. Box 96011, Washington, D.C. 20090.