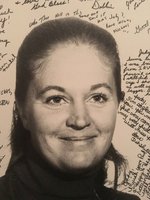 Judy L. Butchko
Judy Butchko passed away peacefully on February 7, 2018. She was 74. Judy is survived by Paul, her husband of 54 faithful years, a son and a daughter, and four grandchildren. Oh, and don't forget her three cats. Paula will surely miss snuggling with Judy at night.
Family and friends were Judy's delight. Her grandchildren were always a topic of conversation at any gathering. Family get togethers will not be the same without her presence. During her 33 years of service with the NJ State Police as a fingerprint technician, many friendships were formed. After retirement, Judy was able to enjoy good times with her friends, extending from high school to the new friend she made last week. Judy's personality encouraged people to talk to her, which usually led to a new friendships.
A Memorial Mass will be celebrated at the Church of the Assumption, 28 Monmouth Road, Wrightstown, NJ on Thursday February 15th at 10 AM.
The family asks that you spend time with your children and grandchildren, eat lots of blueberries, and every time you see a Tweety, think of Judy.