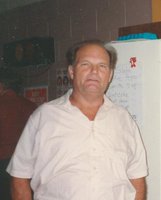 Louis R. Stinson, Jr.
Louis Randolph Stinson, Jr. age 87, of Whiting and formerly of New Egypt, passed away peacefully with his family by his side on Thursday, February 8, 2018 at Whiting Healthcare. He was born in Cedar Knolls, NJ to the late Louis and Helen Stinson on August 5, 1930. In 1937, his family moved south to the New Egypt area, where he stayed for most of his life. After high school, Louis married Edna Briele and the couple had ten children. Louis had a love for cars and worked as a mechanic for several years. He was also very skilled in labor and roofing, working as a Forman for Stinson Roofing for over 25 years. Louis enjoyed going to flea markets and refurbishing old and worn furniture. He was a hardworking, dedicated and strong man who will be deeply missed by those who knew him.
Louis is predeceased by his parents, Louis R. Stinson, Sr. and Helen Stinson (nee Snyder); two siblings, Doris Zappacosta and Howard Stinson and his companion of over forty years, Dorothy VanAlstyne.
Louis is survived by his wife Edna Stinson; his ten children, Louis R. Stinson III, Richard Stinson, Ethel Stinson, Stephanie Stinson, Helen Stinson, Arthur Stinson, Linda Stinson, David Stinson, Lee Stinson and Doris McDonald; his eight siblings, Eileen Eldridge, Marion Meredith, Florence Moore, Jean Ireton, Jill Hotchkins, Carolee Miller, Robert Stinson and Richard Stinson; his twenty grandchildren and nine great-grandchildren; along with several nieces, nephews and friends.
Relatives and friends are invited to gather on Thursday, February 15, 2018 from 6:00PM to 9:00PM at the Tilghman Funeral Home, located at 52 Main Street, New Egypt NJ 08533, and again on Friday, February 16, 2018 from 10:00AM to 11:00AM. A funeral service will begin at 11:00AM, with interment to follow at the Cream Ridge Cemetery. In lieu of flowers, contributions can be made in Louis' memory to the Tilghman Funeral Home C/O the Stinson Family, 52 Main Street, New Egypt NJ 08533.