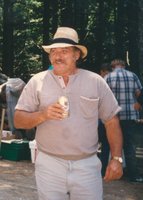 Albert J. Arsenault
Albert J. Arsenault, age 80, of New Egypt, passed away peacefully on Friday, February 9, 2018 at Cooper University Hospital in Camden. He was born in Maine to the late John and Marion Arsenault on March 15, 1937. In 1955, Albert enlisted in the National Guard and served his country proudly. Albert worked as a truck driver for Mayflower for several years. He was a loving husband, father, brother and friend who will be deeply missed.
Albert is predeceased by his parents John Arsenault and Marion Arsenault (nee Mallott); his son James Arsenault and 8 siblings, David Arsenault, Cecelia Folett, John Arsenault, Madeline Gamage, Brenda Arsenault, Sylvia Purcell, Richard Arsenault, Carolie Prucha.
He leaves behind his wife of 17 years, Myrna Arsenault of New Egypt; his 4 children, Gregg Arsenault, Michelle Desmond, Randall Arsenault and Catherine Lee; his 3 step-children Laura Callesen, Allen Davis and Steve Correll; his 4 siblings Greg Arsenault, Violia Saucier, Irene Winser and Constance McCarthy; and adored 7 grandchildren Christine Desmond, Michael Desmond, Alissa Desmond, Destiny Woods, Michael Sanchez and Robert Sanchez and Caitlin Correll.
Services for Albert are being held private at the convenience of the family. All arrangements are under the direction of the Tilghman Funeral Home, 52 Main St., New Egypt NJ 08533.