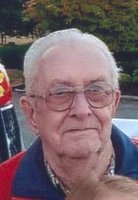 Daniel C. Page, Sr.
Daniel C. Page, Sr., age 82, of Cream Ridge passed away Tuesday, February 27 at Capital Health in Trenton surrounded by his family. Born in Portsmouth, NH, he has been a resident of Cream Ridge for the past 62 years.
Dan retired from Stauffer Chemical in Yardville, NJ where he worked as a calender operator. He enjoyed fishing, Nascar and bird watching. Dan could never sit still, it could be working on his cars or projects around the house. He loved to travel on the many family vacations to New Hampshire and Pennsylvania.
Dan was predeceased by his parents, Daniel V. and Mildred G. (Powhatten) Page; four children, William Page Emery, Robert Page Emery, Brenda Lee Page and Carol Ann Page and a son-in-law, Terry Lee Conk. He is survived by his loving wife and best friend of 62 years, Georgeanna (Varner) Glynn Page; five children, Phillip Page Glynn of Galax, VA, Donna Conk of Cream Ridge, Daniel C. Page, Jr. and wife Kiya of Levittown, PA, William B. Page and wife Victoria of Jackson and Connie L. Mullen and husband Robert of Jackson; eighteen grandchildren and eight great grandchildren.
Funeral services for Dan will be held on Tuesday, March 6 at 11:00 AM at the Tilghman Funeral Home, 52 Main Street, New Egypt, NJ 08533 (www.TilghmanFH.com), with burial to follow in the Cream Ridge Cemetery. Calling hours will be on Monday evening, March 5 from 6:00 to 8:00 PM and again on Tuesday morning from 10:00 to 11:00 AM at the funeral home.
In lieu of flowers, memorial contributions in Dan's memory can be made to the New Egypt Elk's Special Children's Committee, 105 Lakewood Road, New Egypt, NJ 08533.