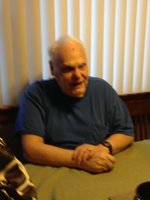 Robert J. Watson
Robert James Watson, 80, of Waynesville, MO, passed away Friday, February 23, 2018 in his home.
Graveside services with military honors will be held at 2:00 P.M. Friday, March 9, 2018 in the Brigadier General William C. Doyle Veterans' Memorial Cemetery of Wrightstown, NJ.
Visitation will be held from 12:30 - 1:30 p.m. Friday, March 9, 2018 in the Tilghman Funeral Home of New Egypt, NJ. Arrangements are under the direction of Memorial Chapels and Crematory of Waynesville / St. Robert.
Mr. Watson is survived by four children: Gary Watson (Peggy) of North Port, FL, Sherry Jones (Bobby) of Waynesville, MO, Kimberly Lance (Robert Mowery) of Bangor, PA and Wendi Watson (Mike Mayer) of North Brunswick, NJ; eleven grandchildren: Hope Carroll and Beau Watson both of North Port, FL, Jordan Adair of Mahoney City, PA, Jarred Jones of Bethlehem, PA, Zachary Jones of St. Robert, MO, Angel Jones and Alana Jones both of Waynesville, MO, Jonathan Lance of Lansdale, PA, Megan Mayer-Dechellis of Edison, NJ, Michelle Mayer-Dechellis of and CarolAnn Mayer-Dechellis both of Middlesex, NJ; six great-grandchildren; three siblings: Eleanor Luksza of Flemington, NJ, Virginia Picot of Venice, FL and Tom Watson of Englewood, FL; numerous nieces, nephews, as well as a host of other relatives and friends.
Memorial contributions may be made in memory of Robert Watson and may be left at the funeral home.