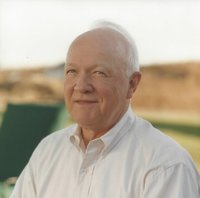 Raymond M. Oster
Raymond M. Oster, age 86, of Columbus and formerly of Charlottesville VA, passed away peacefully on Thursday, March 8, 2018 at Samaritan Hospice in Mt. Holly, NJ. He was born in Princeton, IN on April 12, 1931 to the late Irvin and Laura Oster. In 1954, Raymond enlisted in the United States Air Force. He served in the Vietnam War and achieved the rank of Lieutenant Colonel before retiring in 1973. He began his second career in 1974 as a Certified Public Accountant and retired after 30 years in 2004. Raymond enjoyed golfing, reading, and his weekly Sunday breakfast with his military friends Ed and John. He was a loving husband, father, grandfather, great-grandfather, brother, uncle and friend who will be deeply missed.
Raymond is predeceased by his parents Irvin and Laura Oster (nee Wyatt) and his wife Nina Oster (nee Boudreau).
He leaves behind his five children, Raymond Oster II and his wife Debbie of Houston TX, Mark Oster and his wife Rachel of Houston TX, Tara DiSalvo and her husband John of Columbus NJ, Paul Oster and his wife Katai of Mechanicsville VA, and Thalia Mucha DeLong and her husband David of Woodland NJ; his sisters Maggie Bode and Gloria Barton; his wife of 20 years, Anne Brown and her daughter Kate Basco; his seventeen grandchildren, Tamara, Shasta, Everest, Lydia, Nina-Rae, Jade, Wyatt, Danielle, Brianna, Olivia, Jessica, Lillian, Jeremy, Jason, Vanessa, Jessica and Justin; and his thirteen great-grandchildren, Haley, John, Gabriel, Caleb, Brooklyn, Dominic, Grant, Andrew, Ari, Emilia, Gianni, Victoria and Noah; along with nieces, nephew, Mindy, Missy, Staci, Allan and many friends.
Relatives and friends are invited to gather on Monday, April 2, 2018 from 9AM to 11AM at the Tilghman Funeral Home, located at 52 Main Street, New Egypt NJ 08533. A funeral service will begin at 11AM. Interment will follow at the Brig. General William C. Doyle Veterans Memorial Cemetery at 12:30PM.