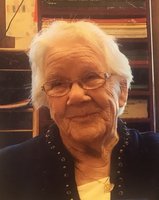 Dorothy M. "Dot" Reynolds
Dorothy "Dot" Mae Reynolds, age 93, of New Egypt, passed away surrounded by her family on Friday, Mach 16, 2018 at home. She was born in Imlaystown to the late John E. and Jennie Goff on August 3, 1924. Dot worked as the manager for Weiner's Department Store for 25 years. She was a Brownie Scout Leader for several years and was very active within her community. Dot was a member of the New Egypt United Methodist Church and was very devoted to her church family. She had a love for gardening and nature. She was a loving wife, mother, grandmother and friend who will be deeply missed by all who knew her.
Dot is predeceased by her parents, John E. Goff and Jennie Goff (nee Crammer); her husband Alton Reynolds, Sr.; her children, Alton "Bucky" Reynolds, Jr. and Patricia Gignac; and her grandson Eugene Gignac.
She leaves behind her daughter Linda Davis of New Egypt; her daughter-in-law Lynda Reynolds of New Egypt; her 5 adored grandchildren, Lisa Gignac of OR, Mark Preston and wife Kathy of GA, Tracy Preston of Bayville, Sean Reynolds of North Hanover and Scott Reynolds and wife Michelle of New Egypt; 9 great-grandchildren; 1 great-great-grandchild; along with several nieces, nephews and friends.
Relatives and friends are invited to gather on Tuesday, March 20, 2018 from 10AM to 11AM at the Tilghman Funeral Home, located at 52 Main St., New Egypt NJ 08533. A funeral service will begin at 11AM with interment to follow at Jacobstown Cemetery. In lieu of flowers, donations can be made in Dot's memory to the Wounded Warrior Project, P.O. Box 758517, Topeka, KS 66675.