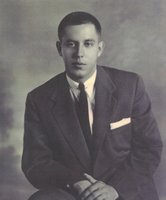 Gerald F. Heupel
Gerald F. Heupel, age 89, of Cream Ridge, passed away with his family by his side on Saturday, March 17, 2018 at his home. He was a resident of Jensen's Deep Run Community in Cream Ridge for the last 29 years. Gerald was the Vice President of accounting for Opinion Research in Princeton until his retirement.
A veteran of the Army Intelligence during his service both overseas and in Virginia, including CIA involvement while in Arlington. Gerald also enjoyed camping, gardening and being outdoors. He was an avid genealogist after he retired and was a parishioner of St. Mary's RC Church in Bordentown for several years. Gerald was a loving husband, father, grandfather and friend who will be deeply missed.
Gerald is predeceased by his parents Francis L. and Theresa A. Heupel (nee Dupras); two grandsons, Jerry Heupel III and Robbie Heupel.
He leaves behind his wife of 62 years, Patricia Heupel (nee Hartmann) of Cream Ridge; his brother Roger Heupel of Peyton Colorado; his six children, Gerald "Jerry" Heupel Jr. and wife Lilyan of Silver Spring MD, John Heupel of Cream Ridge, Martin Heupel of Cream Ridge, James Heupel and wife Lori of Florence, Mary Beth Shupe and husband Phil of Levittown PA, and Michael Heupel of Bordentown; six grandchildren and nine great-grandchildren.
Relatives and friends are invited to gather on Sunday, March 25, 2018 from 5pm to 7pm at the Tilghman Funeral Home, located at 52 Main St., New Egypt NJ 08533. A Mass of Christian Burial will take place at 10am at St. Mary's RC Church in Bordentown with interment to follow at 12:30pm at the Brig. General William C. Doyle Veterans Memorial Cemetery in Wrightstown. In lieu of flowers, donations can be made in Loving Memory of Gerald F Heupel Sr., the grandfather of Robbie and Jerry Heupel III, to St. Joseph's House, which provides daycare and respite services to children with disabilities, online at www.saintjosephshouse.net or by mail at St. Joseph's House, 1505 Cody Drive, Silver Spring, MD 20902. Jerry Heupel III went to this family-run daycare for 15 years.