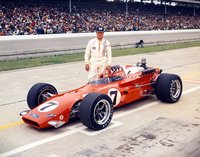 Lester George LaRue
Lester G. LaRue, age 83, of Hamilton passed away Sunday, March 18 at RWJ University Hospital in Hamilton. Born in Trenton, he was a lifetime area resident.
Lester worked as a draftsman for Gould Battery in Trenton for 30 years. He also was a real estate agent for many years working for Mann Realty in Hamilton, Caldwell Banker in Lawrenceville and Melendez Realty in Trenton. Lester was a big fan of open wheeled auto racing and regularly visited tracks in New Jersey and Central Pennsylvania and he owned his own midget race car for a time. He was also a big fan of the Indianapolis 500, having attended every race from 1954 to 2008 except one year when his wife was ill. His favorite driver was AJ Foyt.
Lester was predeceased by his parents, Lester E. and Mary Ellen (Gulden) LaRue and by his wife Fermine (Baird) LaRue. He is survived by his brother, Duane LaRue of Trenton; an aunt and uncle, Bob and Thelma Gulden of Sarasota, FL and cousins, Bob Gulden of Hamilton Square, Jack Gulden of Alabama, John LaRue of Whiting and Dan LaRue of Lebanon, PA.
Funeral services for Lester will be private at the convenience of the family under the direction of the Tilghman Funeral Home in New Egypt, NJ (www.TilghmanFH.com).