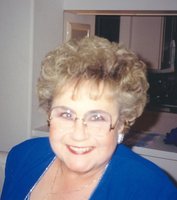 Marilyn E. Ecks
Marilyn E. Ecks, age 86, of Cream Ridge, passed away peacefully on Tuesday, March 20, 2018 at Bartley Heath Care in Jackson. Born in Scranton PA, Marilyn lived there before moving to Manasquan for 30 years, then to Florida for 17 years and most recently to Cream Ridge for the past 7 years.
Marilyn lived for her family. She was a stay-at-home mom and would volunteer at local hospitals often. Marilyn was a member of the Bible Baptist Church in New Egypt. She had a gift when it came to art, especially for oil painting. She liked to shop, have fun and just enjoy life. Her family and her grandchildren were her greatest joy.
Marilyn is predeceased by her husband of 67 years, Clinton George Ecks, her parents Richard Alspach and Irene Alspach (nee Young); and her brother Richard Alspach.
She leaves behind a son and daughter-in-law, Clinton R. and Doreen Ecks of Cream Ridge; a daughter, Connie Sue Eitner of Virginia; five grandchildren, Stephen Eitner, Kevin Ecks, Brian Ecks, Kimberly Harrison and Brianne Eitner; four great grandchildren, Crosby Eitner, Charlotte Ecks, Austin Ecks and Rowan Eitner.
Relatives and friends are invited to gather on Tuesday, March 27, 2018 from 11AM to 1PM at the Tilghman Funeral Home, located at 52 Main St. New Egypt NJ 08533. A funeral service will begin at 1PM. Interment will follow at the Brig. General William C. Doyle Veterans Memorial Cemetery in Wrightstown. Due to cemetery restrictions on flowers, memorial contributions in Marilyn's memory can be made to the Bible Baptist Church Building Fund, 100 Lakewood Road, New Egypt, NJ 08533.