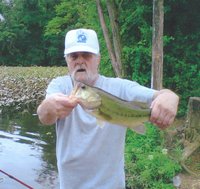 Frederick B. Rauch
Frederick B. Rauch, age 75, of Browns Mills, passed away peacefully with his family by his side on Sunday, August 12, 2018 at Samaritan Hospice in Mt. Holly. He was born in New York to the late Alfons and Emma Rauch on June 15, 1943. Frederick proudly served in the US Air Force for three years. After his term was over, Frederick went to work for, and later retired from the Department of Environmental Protection in New Jersey. Frederick was a hardworking and very skilled man, who also had a love for the outdoors. He enjoyed hunting, fishing and target shooting. He was an avid gun collector and enjoyed going to Atlantic City. Frederick was a loving husband, father, grandfather and friend who will be deeply missed.
Frederick is predeceased by his parents, Alfons and Emma Rauch (nee Pfeifer) and his adored wife Carol Rauch (nee Darvas).
He leaves behind his son Richard Rauch and his wife Melissa of Burlington; his daughter Shari Bell and husband Wayne of Browns Mills; five grandchildren; three great-grandchildren; and several dear friends.
Relatives and friends are invited to gather for a Memorial Service on Saturday, August 18, 2018 from 2PM to 4PM at the Tilghman Funeral Home, located at 52 Main Street, New Egypt, NJ 08533. In lieu of flowers, donations can be made in Frederick's memory to the Burlington County Animal Shelter, County Facilities Complex, 35 Academy Drive, Westampton, NJ 08060 or to a charity of your choice.