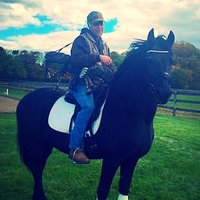 Shawn L. Johnson
Shawn L. Johnson, age 54, of Browns Mills and formerly of New Egypt, passed away peacefully on Friday, October 12, 2018 at Samaritan Hospice in Mount Holly. He was born in Trenton to Lester and Carol Johnson on October 16, 1963. Shawn worked as a master carpenter and took great pride in his work and craftsmanship. He also loved spending his time outdoors. He loved everything from fishing and hunting to archery and shooting. He was the ultimate outdoorsman. Shawn was a loving son, father, brother, uncle and friend who will be deeply missed by those who knew him.
Shawn leaves behind his son, Darin Shanley-Johnson of New Egypt; his parents Lester and Carol Johnson (nee Dancer) of New Egypt; his brother Scot Johnson of New Egypt; his sister Stacy Johnson-Stafford of Felton DE; his three nephews, Justin Johnson, Austin Stafford and Ashton Stafford; and several friends.
Relatives and friends are invited to a memorial gathering on Saturday, November 3, 2018 from 11AM to 1PM at the Atkinson Hall, New Egypt United Methodist Church, located at 9 Fort Avenue, New Egypt NJ 08533. A memorial service will begin at 1PM. All arrangements are under the direction of the Tilghman Funeral Home, New Egypt NJ. In lieu of flowers, donations can be made in Shawn's memory to Samaritan Hospice, 5 Eves Drive, Suite 300, Marlton, NJ 08053 (www.samaritanj.org).