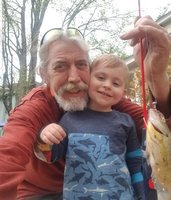 Michael D. Leming
Michael D. Leming, age 60, of New Egypt, passed away suddenly on Wednesday, November 14, 2018 at his home. He was born in New York to the late David and Jackie Leming on August 13, 1958. Michael worked as carpenter for many years and was very skilled in his profession. Michael was the kind of guy who embraced life and all that it had to offer. He was a free spirit and ran against the grain. He made sure every moment of his life was filled. Michael enjoyed being outdoors, doing everything from camping to hunting and fishing. He was also big on family. Michael loved spending time with his grandchildren and family events. Michael was also extremely giving, not only in life, but after as well, being that of an organ donor. He was a loving father, grandfather, brother and friend who will be deeply missed.
Michael is predeceased by his parents. He leaves behind his daughter Sandy Leming of New Egypt; his son Mike Leming and his wife Nicole of Cream Ridge; his three adored grandchildren, Scarlett, Cash and Paisley; his brothers, David Leming and Tony Leming; his sisters, Lisa Leming and Missy Leming; along with several other extended family and many friends.
Relatives and friends are invited to gather on Saturday, December 1, 2018 from 1PM to 6PM at the New Egypt Elks Lodge #2457, located at 105 Lakewood Rd., New Egypt NJ 08533. In lieu of flowers, donations can be made in Michael's memory to the American Diabetes Association at http://www.diabetes.org . All arrangements are under the direction of the Tilghman Funeral Home, New Egypt NJ.