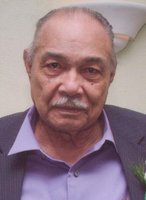 Bert Chambers
Bert Chambers, age 83, of Wrightstown, passed away suddenly on Monday, November 5, 2018 at his home. He was born in Morganton, North Carolina on January 25, 1935 to the late Bert and Violet Greenlee Chambers. He attended school in Morganton, North Carolina. He moved to New Jersey at an early age. Bert enlisted into the United States Marie Corps and served in the Korean War. Bert worked at Princeton Nurseries in Allentown, NJ as a foreman for over twenty years and enjoyed working outside. Bert was a God-fearing man who prayed and read his bible daily. He was a very caring and helpful man, always there for someone in their time of need. He was also extremely patient and kind. Bert was a loving husband, father, grandfather, brother and friend who will be sorely missed.
Bert is predeceased by his parents; his first wife Bertha Chambers; his second wife Barbara Chambers; his son-in-law Henry Ward; and his four sisters, Elizabeth Wilson, Alberta Faison, Laura Jennings and Vivian Mickey.
He leaves behind his daughter, Belinda Ward; his four step-sons, Gordon Myers, Mark Willetts and wife Darlene, Erik Willetts and wife Ann, Chris Willetts and wife Julie; brother-in-law Rev. John E. Jennings; and many grandchildren, great-grandchildren, great-great-grandchildren along with a host of nieces, nephews, other loving relatives and friends.

Relatives and friends are invited to gather on Friday, November 23, 2018 from 11AM to 1PM at the Tilghman Funeral Home, located at 52 Main Street, New Egypt, NJ 08533. Interment will follow with military honors at the Brig. General William C. Doyle Veterans Memorial Cemetery in Wrightstown, NJ.