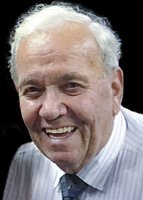 Leonhard A. "Lenny" Gilbert
Leonhard "Lenny" A. Gilbert, age 80, of Whiting and formerly of Wrightstown, passed away with his family by his side on Thursday, December 6, 2018 at Robert Wood Johnson University Hospital in Hamilton. He was born in Brooklyn, New York on July 3, 1938 to the late Milton and Florence Gilbert. Leonhard worked as an iron worker for several years before his retirement. He married the love of his life, JoAnn, who he completely and utterly adored. Leonhard enjoyed gardening, was an avid card player and loved to talk to anyone and everyone. He was always openhearted, warm and welcoming, willing to listen and ready to make people laugh. Leonhard loved traveling with his wife and spending time with his daughters and grandkids. He was a very devoted man, pure of heart and kind. His family meant everything to him. Leonhard held a lot of titles, as a loving husband, father, grandfather, great-grandfather, great-great-grandfather, uncle and friend and he will be sorely missed by all who had the privilege of knowing him.
Leonhard is predeceased by his parents and by daughter Lenanne Gilbert. He is survived by his wife of 57 years, JoAnn Gilbert (nee Merwin) of Whiting; his daughters, Michele Kodran and husband Patrick, Chantel Nixon and husband Philip, Sunshine Lynch and husband John; 10 grandchildren; 24 great-grandchildren; 3 great-great-grandchildren; along with many nieces, nephews and friends.
Relatives and friends are invited to gather for a memorial service on Saturday, December 15, 2018 at 2PM at the Kingdom Hall of Jehovah's Witnesses, located at 5 West Caines Drive, Cream Ridge, NJ 08514. All arrangements are under the direction of the Tilghman Funeral Home, New Egypt NJ.