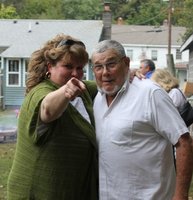 James Harvey Towles
Harvey Towles, age 82, died January 3, 2019 at Bartley Rehabilitation in Jackson, NJ. He was coming home to New Egypt on the day he passed away.
Harvey was predeceased by his wife, Barbara McGuire Towles and his son James "Jimmy" Towles, Jr. He was the first born son of the late Hillary and Zadie Mae Scallorn Towles of Batesville, MS. He was also predeceased by brothers Marvin Neal Towles, Joseph "Richard" Towles and "Johnny" Towles. Harvey is survived by his daughter Kerrie Gaskill and husband John of New Egypt; his brother William Lester Towles of MS and his sister Carol Ann Mothershed and husband Ken of MS.
After finishing Batesville High School in 1954, Harvey served with the US Army from 1954 to 1960. Then he enlisted and served in the US Air Force from 1961 to 1965, where he met his wife Barbara. They were both stationed at McGuire AFB. Harvey worked for Acme Markets for 32 years as a meat cutter before retiring in 1997. Harvey Towles was a charter member of the Hanover Country Club, the Lacey Golf Association and the New Egypt Elks Lodge #2457.

As per Harvey's instructions, there will be no viewing, no funeral and absolutely no flowers. In lieu of flowers, donations can be made to the New Egypt Vol. Fire Company, P. O. Box 177, New Egypt, NJ 08533. At a later date there will be a spreading of ashes at Harvey's parking spot at Gambler Ridge Golf Club and also at the 12th green. Why the 12th green you ask? Because it's the closest to the bar. "It has been a lovely ride. Good-Bye."