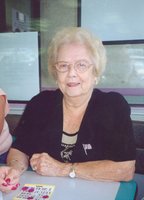 Doris F. Croshaw
Doris F. Croshaw, age 91, of North Hanover Township, passed away peacefully on Sunday, January 6, 2019, at home. She was born in Pemberton on March 26, 1927 to the late Maurice and Sarah Fort. Doris was a lifelong resident of the area and was a member of the Pemberton United Methodist Church for many years. She was on the North Hanover Township Committee and was also the townships Police Commissioner. Doris worked as a secretary for the Director of Buttonwood, a bus driver for Howard Stevens in North Hanover and a secretary for Selective Insurance Company in Hamilton. In her spare time, Doris enjoyed working on the family farm, taking trips to the shore and spending time with her family. She was a loving wife, mother, sister, grandmother and friend who will be deeply missed.
Doris is predeceased by her husband, Paul Croshaw; two grandsons, Richard Paul Walton and Timothy C. Walton; her parents Maurice Fort and Sarah Fort (nee Haines); and her five siblings, Maurice, Joe, Ken, Don and Betty.
She leaves behind her two daughters, Cynthia Walton and husband Brian of North Hanover Twp. and Deborah Moriconi and husband Raymond of North Hanover Twp.; her grandchildren, Jen, Jessie, Rick, Caleb, Raymond and Kristina; great-grandchildren, Steven, Samantha, Levi, Vega, and Nora; sister-in-law Bev; devoted caregiver, Raeann Milligan; along with several dearly loved nieces, nephews, friends and neighbors.
Relatives and friends are invited to gather for a memorial service on Thursday, January 10, 2019 at 11AM at the Pemberton United Methodist Church, located at 45 Hanover Street, Pemberton NJ 08068. In lieu of flowers, donations can be made in Doris' memory to either the Pemberton United Methodist Church (using the same address as listed above), Samaritan Hospice (5 Eves Drive, Suite 300, Marlton NJ 08053) or to Meals On Wheels (Burlington County Office on Aging, 49 Rancocas Road, P.O. Box 6000, Mount Holly, New Jersey 08060, Attention: Meals on Wheels). All arrangements are under the direction of the Tilghman Funeral Home, New Egypt NJ.