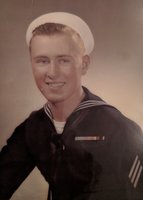 Richard W. Kerry
Richard W. Kerry, age 86, of Tabernacle, passed away on Saturday, January 5, 2019. He was born in Glen Ridge, NJ to the late Joseph and Florence Kerry on December 14, 1932. Richard proudly served in the U.S. Military as a TriService member for 23 years before retiring from the U.S. Air Force in 1976. Richard was a Marine at heart and believed in the warrior's ethos, the concept of core values and performing morally on and off duty. This was evident in his support of charities and his lifetime membership as a 32nd degree Scottish Rite Freemason and Shriner.
Richard is pre-deceased by his parents and leaves behind his wife of over 43 years, Sue; and two sons William and Joseph and their families. He was a loving husband, father, brother, grandfather, and friend and was greatly respected by all that knew him.
Relatives and friends are invited to a Memorial Gathering on Friday, January 18, 2019 from 10AM to 12PM, at the Tilghman Funeral Home, located at 52 Main Street, New Egypt, NJ 08533. A military service will follow at 12:30PM at the Brig, General William C, Doyle Veterans Memorial Cemetery in Wrightstown NJ. In lieu of flowers, donations can be made to, "Shriners Hospital for Children", in memory of Richard W. Kerry.
Shriners Hospitals for Children
Attn: Office of Development
2900 N. Rocky Point Dr.
Tampa, FL 33607