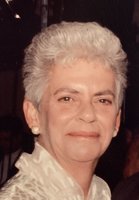 Bette L. Gassert
Bette L. Gassert, age 79, a lifelong resident of the New Egypt area, passed away peacefully on Saturday, January 26, 2019 at CentraState Medical Center in Freehold. She was born in Union Beach, NJ on June 21, 1939. Bette worked as a bus driver for Wolfington for the New Egypt School District for many years before her retirement in 2008. She was a dedicated and hard working woman all her life. She also had a love for decorating and singing. Bette was also a member of the New Egypt United Methodist Church for several years. She was a loving wife, mother, sister, grandmother and friend who will be deeply missed.
Bette is predeceased by her parents, Barbara Dietz and Barbara Dieter; her husband John Gassert; and siblings Ollie, Audrey, June and Buddy. She leaves behind her three sons, Randy Byrne and wife Lisa of Chesapeake VA, Dan Byrne and his wife Judith of New Egypt and Tim Byrne and wife Danalyn of Cream Ridge; six grandchildren, Justin, Celia, Daniel, Deanna, Carly and Kaci; her sister Rheta Sellitti and her husband Frank of Allentown, PA; along with many extended family and dear friends.
Relatives and friends are invited to gather on Wednesday, January 30, 2019 from 6PM to 8PM at the Tilghman Funeral Home, located at 52 Main Street, New Egypt NJ 08533. Interment will be held private at the convenience of the family.