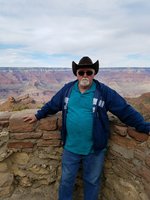 William E. DuPuis, Sr.
William Edward DuPuis, Sr., age 70, of New Egypt passed away peacefully on Monday, February 18, 2019 at CentraState Medical Center in Freehold. He was born in Neptune NJ to the late Roy and Roseann DuPuis on January 14, 1949. William served in the US Army during the Vietnam War and later went on to work for Sybron Chemicals as a maintenance mechanic before his retirement in 2007. He was a member of the Church of the Assumption and enjoyed hunting for treasures at local yard sales and flea markets. William was a dedicated husband, father, brother, grandfather, great-grandfather, uncle and friend who will be deeply missed by all who knew him.
William is predeceased by his parents, Roy and Roseann DuPuis (nee McGrory); and two siblings, Frances Burd and Kenny DuPuis.
He leaves behind his adored wife of 48 years, Kathleen DuPuis (nee O'Connor) of New Egypt; his three children, Tracey Taccetta of New Egypt, William E. DuPuis, Jr. of New Egypt and Michael R. DuPuis of New Egypt; his six grandchildren, Chloe, Noah, Conner, Kaylin, Tyler and Mikaela; one great-grandchild; four sisters, Barbara Crawford and husband Bobby, Marilyn Tagliaferri and husband Jerry, Alice Tipperreiter and husband Ray and Dorothy Hayman; as well as several nieces, nephews and friends.
Relatives and friends are invited to gather on Friday, February 22, 2019 from 7PM to 9PM at the Tilghman Funeral Home, located at 52 Main Street, New Egypt NJ 08533. A funeral mass will be held on Saturday, February 23, 2019 at 10AM at the Church of the Assumption Chapel, located at 76 Evergreen Road, New Egypt NJ 08533. Interment will follow at the church cemetery. In lieu of flowers, donations can be made in William's memory to the Leukemia & Lymphoma Society, Donor Services, PO Box 98018, Washington DC 20090-8018.