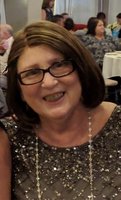 Maria A. Caiafa
Maria A. Caiafa, age 61, of North Hanover Twp. passed away Saturday, February 23 at Samaritan Hospice Inpatient Unit in Mt. Holly surrounded by her loving family. Born in Queens, NY, she has lived in North Hanover Twp. for the past 24 years and formerly of Browns Mills.
Maria worked as a project manager for Becton Dickinson and previously was employed as a nurse at Deborah Heart and Lung Center for 25 years. She enjoyed baking, working in her garden and going to the beach. She was a parishioner at the Church of the Assumption in Wrightstown. Maria was very organized, loved to plan family parties and spending time with her grandchildren. She wasn't much of joiner, she was more of a doer. Maria was a loving wife, mother, grandmother, daughter, sister, aunt and friend who will be missed by all.
Maria is survived by her loving husband of 38 years, Richard Caiafa; her parents, Ralph and Frances (Magnosi) Battista of Colts Neck; a son, Richard Caiafa, Jr. and wife Amber of Hamilton; two daughters, Christina Cerbone and husband Don of Tabernacle and Melissa Halloran and husband Michael of North Hanover Twp.; eight grandchildren, Jacob, Hannah, Lily, Noelle, Richard and Giovanni Caiafa and Abby and Bella Cerbone; five siblings, Anthony Battista and wife Mary of Pine Knoll Shores, NC, Lisa Battista and Doug Murphy of Monmouth Beach, Joseph Battista and wife Michelle of Colts Neck, John Battista and Agnes Debicz of Ventnor and Paul Battista and wife Lisa of Colts Neck; many nieces and nephews and many friends, and also her grand-pups, Bella and Horus.
A Memorial Mass for Maria will be held on Thursday, February 28 at 11:00 AM at the Church of the Assumption, 28 Monmouth Road, (Route 537), Wrightstown, NJ 08562. Calling hours will be on Wednesday, February 27 from 2:00 to 4:00 PM and again from 6:00 to 8:00 PM at the Tilghman Funeral Home, 52 Main Street, New Egypt, NJ 08533 (www.TilghmanFH.com).
Memorial contributions in Maria's memory can be made to the Breast Cancer Research Foundation, 28 West 44th Street, Suite 609, New York, NY 10036 (www.bcrf.org).