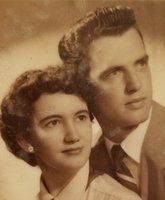 James L. "Gris" Griswold
James L. "Gris" Griswold, age 85, of New Egypt, passed away peacefully on Saturday, March 2, 2019 at the Masonic Village at Burlington. He was born in Hartford, Connecticut to the late James M. and Helen Griswold on June 5, 1933. After high school James served in the US Army during the Korean War from 1953 to 1955. He married the love of his life, Norma, in 1953 and the couple later had two sons. James worked as an auto mechanic for Bullocks Garage for over 35 years and later went to work for Townsend Machine. He was a dedicated and hardworking man who always made time for others.
James was a very active member within the community. He was a member of the Masonic community for over 55 years. He started within the New Egypt Lodge and later went on to be involved with the Pemberton Lodge after the merger. He was also an exempt member of the New Egypt Volunteer Fire Company and a member of the American Legion Post 455 in New Egypt. James had a love for history and also acted as a charter member for the New Egypt Historical Society. Service and giving back played such a huge part in James' life. He was always there to help anyone in need with whatever they needed. He lived his life to be kind and gentle, to be there for others and to always have a smile on his face. James enjoyed gardening, auto racing, treasure hunting and just adored his family. He was a loving husband, father, grandfather, brother, uncle and friend who will be sorely missed by all who knew him.
James is predeceased by his parents, James M. and Helen Griswold (nee Conner); his son James L. Griswold and his three brother-in-laws. He leaves behind his loving wife of 65 years, Norma Griswold (nee Thompson) of New Egypt; his son Bob Griswold and wife Diane of New Egypt; granddaughter Jennifer and husband Russ LeVasseur; three great-grandchildren, Shania, Steven and Tyson; two great-great-grandchildren, Ari and AJ all of Blackfoot, Idaho; six siblings, Richard Griswold and wife Arlene, Glenn Griswold and wife Anne, Howard Griswold and wife Mary, Evelyn Todd, Carol Hartz and fiancé Frank and Glenda Robbins; along with several nieces, nephews, extended family members and friends.
Relatives and friends are invited to gather on Thursday, March 7, 2019 from 4PM to 7PM at the Tilghman Funeral Home, located at 52 Main Street, New Egypt NJ 08533. A funeral service will begin at 7PM. Interment will take place at a later date at the Brig. General William C. Doyle Veterans Memorial Cemetery in Wrightstown. In lieu of flowers, donations can be made in James' memory to the Masonic Charity Foundation of New Jersey 902 Jacksonville Road Burlington, NJ 08016-3896.