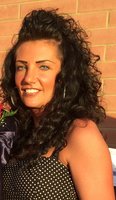 Georgia A. Ribavaro-Fulmer
Georgia A. Ribavaro-Fulmer, age 46, of New Egypt and formerly of Florence, passed away on Saturday, March 9, 2019 at home. She was born in Trenton to the late Charles and Georgianne Ribavaro on May 29, 1972. Georgia was a 1991 graduate of Allentown High School and became a master nail technician and entrepreneur. She took so much pride in her work and was very talented. Georgia loved anything that sparkled, dancing and freestyle music. She also had a passion for motorcycles and enjoyed riding her Harley. She had a love of fashion and took pride in her appearance. Georgia was a loving daughter, mother, aunt and friend who will be sorely missed by all who knew her.
Georgia is predeceased by her parents, Charles J. and Georgianne Ribavaro (nee Brooks); and by her brother James C. Ribavaro. She leaves behind her two sons, Richard Fulmer of Wrightstown and Randie Fulmer of New Egypt; her companion, Jeff Kuey of New Egypt; niece Karolyn Ribavaro of Cookstown; best friend, Laurie Salcfas of Morrisville PA; her adored dogs, Biggie and Gigi; along with many friends.
Relatives and friends are invited to gather on Friday, March 15, 2019 from 6PM to 8PM at the Tilghman Funeral Home, located at 52 Main Street, New Egypt NJ 08533. A memorial service will begin at 8PM.