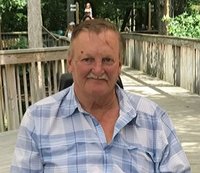 John W. Stiebritz, Sr.
John W. Stiebritz, Sr., age 71, of North Hanover, passed away at home with his family by his side on Wednesday, April 17, 2019. He was born in Mount Holly to the late Walter and Annemarie Stiebritz on June 13, 1947. John graduated from Northern Burlington High School in 1965. He married the love of his life, Joyce, in 1969 and the couple had 5 children. John worked as a truck driver for AmeriGas for several years. He enjoyed wood working, going to sales and flea markets, gardening and just being outdoors. John was a loving husband, father, brother, grandfather and friend who will be deeply missed by all who knew him.
John was predeceased by his parents, Walter R. Stiebritz, Sr. and Annemarie Stiebritz (nee Meder); and by his brother Walter R. Stiebritz, Jr.
He leaves behind his adored wife of almost 50 years, Joyce A. Stiebritz (nee Sharp) of North Hanover; his 5 children, John W. Stiebritz, Jr. of New York, James Stiebritz of North Hanover, Joseph Stiebritz and wife Antonette of North Hanover, Jennifer Sentak of North Hanover and Jeffrey Stiebritz of North Hanover; his 2 sisters, Dorothy Idell of North Hanover and Linda Kolb of Florida; 2 grandchildren, Adam and Zachary; and several friends.
Relatives and friends are invited to attend a graveside service at 10AM on Monday, April 22, 2019 at the Jacobstown Baptist Cemetery, located at 49 Jacobstown-Arneytown Rd, Wrightstown, NJ 08562. All arrangements are under the direction of the Tilghman Funeral Home, 52 Main Street, New Egypt NJ 08533.