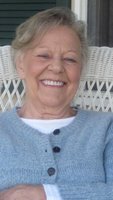 Marie L. Dowd
Marie L. Dowd, age 83, of New Egypt, passed away peacefully with her family by her side on Friday, April 26, 2019, exactly 100 days after her beloved husband Jim. Marie was born in Lamington, New Jersey to the late Edward and Jennie Wilson on March 2, 1936. She married the love of her life, James Dowd, on October 21, 1961. Marie worked as a secretary on BOMARC Base and was very involved with the New Egypt First Aid for over 35 years. She was also a singer and guitarist in a band named "The Comfort's". Marie loved all sorts of music but nothing came close to "Top 40 Country Countdown". She was kind, loving, fun and compassionate, but most of all, Marie was a devoted wife, a wonderful mother and grandmother and she will be so deeply missed by all who knew her.
Marie is predeceased by her parents, Edward and Jennie Wilson (nee Fritts); her husband of 57 years, Jim Dowd; and by her son W. Doug Gamble. She leaves behind her daughter and son-in-law, Deneen and Lee Hill of Cookstown; four grandchildren, James Hill, Thomas Hill, Krystle Hill and fiancé Brandon McCloskey and Melissa Gamble-Messinese; a great grandchild, Kaleb; and her brother, Edward Wilson of Levittown, PA. Deneen would like to extend her sincere gratitude and love to All of the Staff at Complete Care at Green Acres, for the last 7 years for their unconditional love and care for both "Mom and Pop." The Devotion All The Staff Gave to Them Is Forever Appreciated. They are all truly Angels in Our Lives.
Relatives and friends are invited to gather on Tuesday, April 30, 2019 at 1:30PM for a graveside service at the Zion Cemetery, located on Lakewood Road in New Egypt, NJ. In lieu of flowers, donations can be made in Marie's memory to the Plumsted Presbyterian Church, 14 Front Street, New Egypt, NJ 08533.